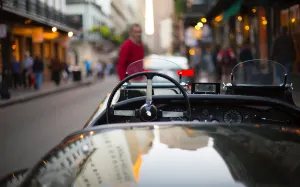 Relocating to a new country can bring various challenges, including understanding and adapting to a new set of rules and regulations governing everyday life. One crucial aspect that can have a significant impact on your day-to-day life in France is registering your vehicle and navigating the French vehicle administration process. The process can be quite intricate, full of paperwork, and it will certainly test your patience, but with the right guidance, this seemingly daunting task can be broken down into manageable steps.
The goal of this article is to provide you with a comprehensive guide to registering your vehicle in France as an English speaker. We will take you through the entire process – from importing your vehicle, understanding the various taxes and fees involved, and familiarising yourself with the legal requirements around vehicle ownership in France. Moreover, we will discuss how partnering with French Connections HCB, your one-stop administration partner in France, can help you overcome the challenges of this complex process and make your transition to living in France smoother and more enjoyable.
Registering your vehicle in France can represent a significant milestone in establishing your new life in the country. By becoming well-versed in the registration process, you can help ensure your vehicle is compliant with all the necessary laws and regulations, giving you peace of mind as you navigate the beautiful French roads. Whether you are a car enthusiast or simply someone who needs a car for their everyday needs, this guide will walk you through each step and offer helpful tips to ensure a smoother and hassle-free vehicle registration experience in France. So, let's begin our journey and take a closer look at everything you need to know about registering your vehicle in France as an English speaker.
Vehicle Registration Process Overview
Vehicle Import Laws
When importing your vehicle into France, it is vital to be aware of the various import laws and regulations. Firstly, it is important to know that cars imported from within the European Union (EU) are subject to different rules compared to those imported from outside the EU. Generally, vehicles imported from within the EU are exempt from import duties, while those from outside the EU may incur higher taxes and fees.
The Role of Certificates of Conformity and Import Declarations
Before registering your vehicle in France, you will need to obtain a Certificate of Conformity (CoC) and an import declaration. The CoC is a document issued by the vehicle manufacturer to confirm that the vehicle meets the required safety and environmental standards. The import declaration, on the other hand, is a document that you complete when importing your vehicle, stating the details of the vehicle and your intention to register it in France.
French License Plates
Once your vehicle is registered in France, you will be issued with a new French license plate. French license plates consist of a combination of letters and numbers, separated by a dash, and they are usually issued in a white background with black text.
Steps to Properly Import and Register a Vehicle
Customs Declaration
Upon arrival in France with your vehicle, you will need to complete a customs declaration at the port of entry. This declaration helps French authorities track imported vehicles and is the first step in the registration process.
Obtaining a Certificate of Conformity
As mentioned earlier, the CoC confirms that your vehicle meets the necessary safety and environmental standards. To obtain a CoC, you will need to contact your vehicle's manufacturer or visit their website. If your vehicle does not have a CoC, you may need to have an Individual Vehicle Approval (IVA) inspection with an official approved body called the DREAL to ensure it complies with the required standards. This process may take several more months.
Vehicle Inspection (Contrôle Technique)
All vehicles in France must undergo a mandatory vehicle inspection, known as contrôle technique, before being registered. The inspection checks the overall safety and roadworthiness of the vehicle and is similar to the British MOT. A UK MOT certificate is not valid in France.
Registration of the Vehicle at Your Local Prefecture
After successfully completing the customs declaration, obtaining a CoC, and passing the contrôle technique, you will need to register your vehicle at your local prefecture. During registration, you will be required to provide several documents, including your passport, driver's license, proof of residence, CoC, contrôle technique certificate, and proof of insurance. Your local prefecture will then provide you with your French certificate of registration (carte grise). Then, you'll get your French license plate personally from a specialist website once you have the registration number.
Taxes and Fees
Value-Added Tax (VAT)
When importing a vehicle from within the EU, you are usually exempt from VAT if the vehicle is more than six months old and has been driven for over 6,000 km. For vehicles from outside the EU, VAT should be paid upon importation, which is currently set at 20%.
Registration Fee (Taxe Régionale)
This fee is paid to your local prefecture during the registration process. The cost varies depending on the region and the type of vehicle.
Green Tax (Malus/Pastille Crit'Air)
France has a green tax system in place to encourage more environmentally friendly vehicles. The tax applies to newly registered vehicles and is based on the car's CO2 emissions.
Driving in France: Licenses, Insurance, and Legal Requirements
As an English speaker living in France, you may still use a valid UK driving license. However, you must register your license with the French authorities. Additionally, it is essential to have a valid insurance policy for your vehicle.
How French Connections HCB Can Help with Vehicle Registration
Navigating the vehicle registration process in France can be challenging, but French Connections HCB is here to assist you every step of the way. As your one-stop administration partner, we can guide you through the process and ensure that your vehicle registration is completed seamlessly.
Conclusion
Vehicle registration in France is an essential step in establishing your new life in the country. With this comprehensive guide, you are now equipped with the knowledge and tools necessary to navigate the French vehicle registration process. Don't forget that French Connections HCB is always here to support you throughout your move, ready to offer personalised assistance with all your needs. Armed with this information and the support of French Connections HCB, you can hit the open road and enjoy all that France has to offer.