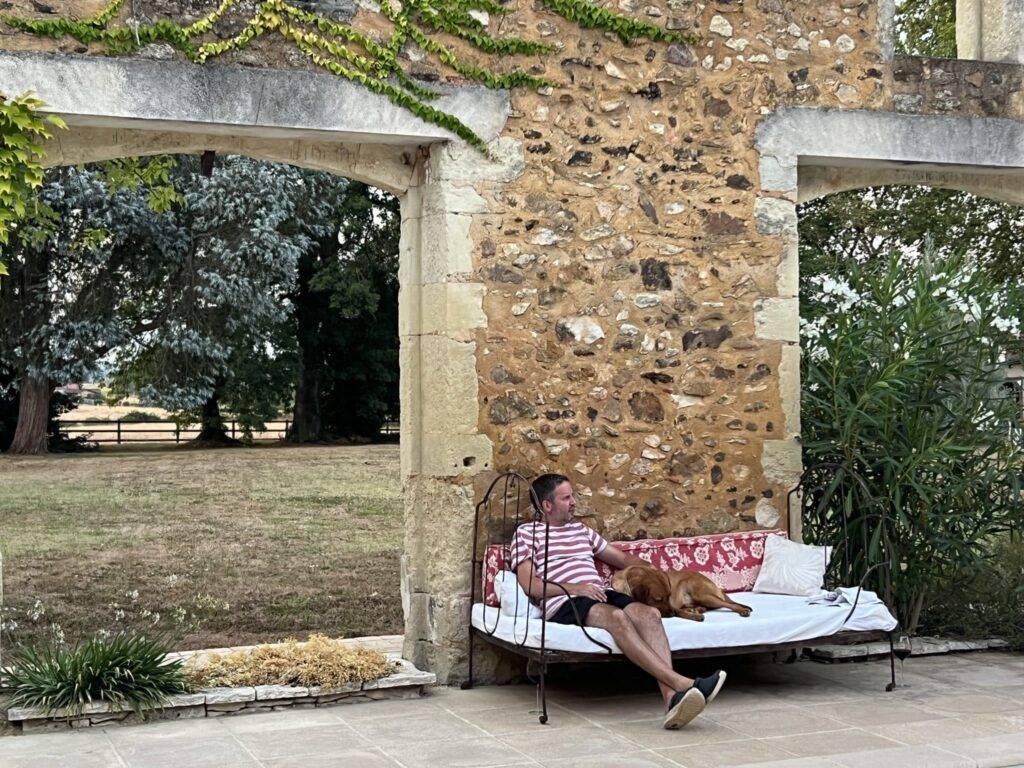 This week we talk to French Connections HCB client, Mark. He has just returned from his first trip to the UK since moving to France and is surprised by how happy he is to be back on French soil.
"France feels like home, which is a bit strange considering we have only been here since the beginning of August!"

A couple of years ago, living in France was only a pipe dream for Mark and his partner, Rachel, but a nasty bout of Covid changed all that and gave them a new perspective.

Mark explains, "During the first Covid lockdown, Rachel and I were in discussions with our friends about doing a family holiday. We don't have any kids but our friends have three, so we booked a fairly large house to accommodate everybody, with a pool, a decent sized garden and a BBQ, that sort of stuff."
That holiday didn't turn out as planned because UK's Covid rules changed overnight.

"Suddenly, once you returned from holiday to the UK you had to quarantine for two weeks. This was just before September and our friends' eldest child was starting secondary school so they had to pull out because she needed to isolate and therefore would have missed that important first week."

Luckily for Mark and Rachel, the owner of the Airbnb they had booked was sympathetic. "There was a cancellation policy due to the Covid situation and the owner agreed to reduce the week's rental so just the two of us could go."

Little did they know that the holiday would change their lives.

"Whilst we were staying in this beautiful house, in beautiful France with beautiful weather, I started looking on my phone to find out how much a house like this would cost. We were in a little place called Brantome. I almost fell over at the price difference between France and the UK."

At that stage, Mark and Rachel thought no further than 'One day, maybe'. Mark was a company owner and still running a business in the UK. Rachel was military and had taken a 6 month position in Senegal, so she was in Africa.

Then Covid struck.

"I was on my own in our house in St Albans. I woke up on a Sunday morning and went to walk our dog round the local park. I got about 200 yards from the front door and it felt like someone had just taken the batteries out of me. I didn't get gradually tired, I just went from feeling absolutely fine to 'OMG, I'm not even trying to walk back to my house'. It was a very, very strange feeling."

Mark phoned the NHS helpline and was advised to get a drive-through Covid test straight away. He woke up the next morning to a positive test result on his phone.

"Fortunately, I already had a scheduled GP telephone consultation booked for that afternoon because I'm diabetic and this was my yearly check-up. Their computer system had already notified them that I was Covid positive. The doctor said that I didn't sound ok. It's true I was out of breath, but at that point I didn't think I was that ill. I've been worse with bad colds. The doctor then organised for my local GP practice to bring round one of those blood oxygen meters, which I think saved my life. You were supposed to call an ambulance if you got a reading of 94 out of 100. I was already down to 82/83."

Typically English and not wanting to make a fuss, Mark called the non-emergency number. He was told in no uncertain terms to put the phone down immediately and call 999.

"It was the very first time in my life that I had dialled those numbers, for any reason."

Mark admits to being incredibly scared at that point. After he called the ambulance, he called his mum.

"I've lived by myself since I was 17, so I'm very independent. But for the first time in my life, I thought I was going to die."

The hospital was an awful experience for Mark. "I was lying on the floor in the A&E for probably two hours. They didn't have a bed for me, I couldn't see a doctor. They did X-rays and tests then put me back in an ambulance with another patient who was being discharged and sent me home without waiting around for the results. I remember during that journey thinking to myself that I was potentially going to die tonight. I got into bed not knowing if I would wake up. And because of the Covid restrictions, nobody could be with me."

Fortunately, Mark did wake up in the morning. His blood oxygen reading was still at 82/83 so he called another ambulance and this time was admitted to the Covid ward. During his time in hospital, two people next to him on the ward died. "One was a gentleman whose sister had brought round an oxygen meter and he had had similar readings to me. The first day he came in we were talking about how neither of us felt that bad, but then six hours later he died right next to me. By that time, my lungs were down to 40% and 45%. They had dropped over 50% in one day of contracting Covid."

Rachel managed to get compassionate leave to come home from Africa once Mark was Covid-free. But he was struggling. "I suffered massively with brain fog and couldn't even cope with my clothes. I hated my clothes touching my skin, or anybody touching me, or my partner hugging me. For about a month, I had to sleep with double towels on my bed because I had a fever constantly."

While Mark was recovering, he and Rachel made a crucial decision. "We realised that life is way too short. We decided to sell up in the UK and move to France."

Mark closed his business, sold the company, sold the house, sold the car and started looking for a home in France.

"It was love at first sight when we found the house that is now our home. We spent all of 20 minutes looking at it! We didn't even open a single cupboard door or ask any of the questions we maybe should have. We just loved the house, made an offer and it was accepted…"

One of the conditions of sale was that the owners would live there until their son had completed his final year at the local school, so Mark and Rachel had a whole year of looking at pictures and making plans before they could move in.

"That's when we came across French Connections HCB and met Richard. We consulted him regarding our visas and asked for financial advice. To be honest, if we had met him a year earlier, we would have asked him to help us negotiate the purchase price of our house – but as we were already getting an 11-bedroomed house in France for less than our tiny two-bed place in St Albans, we were happy. We negotiated 20,000 euros off the price on the grounds that we would need to rent somewhere for a year until the original owners moved out, but not being familiar with the French system or even knowing whether we were allowed to barter, we didn't have the objectivity and emotional detachment that Richard would have brought to the table."

Richard and the French Connections HCB relocation team quickly sorted out Mark and Rachel's visa issues, but there was another urgent dilemma brewing in the shape of their car.

Mark explains. "I was a company director, therefore I had a company car through my business, which was incredibly tax efficient in the UK, especially as it was an electric car. The problem was that regardless of whether it was a business lease or a personal lease, the car could not come with me to France. It went back to the leasing company, which meant we were car-less. The advice we had read online before meeting Richard was that you have to have owned a car for at least 6 months if you wanted to import it. But by that time, we didn't have six months left before our move to France."

Mark decided to buy a left hand drive car when he arrived in France. However, he discovered that Covid had led to a manufacturing delay on all new vehicles due to the shortage of semi-conductors. The knock-on effect on the second hand car market caused prices to go through the roof all around the world, including France.

Mark sums it up. "Equivalent second-hand cars in France have often done a lot more miles and will probably cost 15-20% more than the same car in the UK. Then you have the exchange rate to deal with, plus brokerage fees on the money transfer. My wife is fluent in everyday French, but buying a car is a slightly more intimidating environment. We weren't there in person and we weren't sure how hard we could haggle. In truth, we didn't understand if we were even allowed to buy a car in France while we were still in the UK, or what address we could get it registered to as we still didn't own the house at that point."

Luckily, Mark found Richard and the French Connections HCB relocation team online. He was in good hands.

"French Connections HCB organised to buy and register a car for us to their address, then do the transfer when we moved to France. Richard has a network of trusted dealerships, depending on which car manufacturer we were interested in. We chose to buy a Mercedes, and he had a good contact there which made the process easier. Richard and I went back and forth on phone and email to make sure the specifications were all correct, and the quote came in at about 10% off the list price, which brought it closer in line with what we would have paid in the UK."

With the car on the point of delivery and the house officially theirs, Mark and Rachel arrived to begin their new life in France. Once again, they had occasion to be grateful to the French Connections HCB team.

"EDF disconnected our electricity in the middle of the night! We had no power at all. We charged our phones in the car, but even with Rachel's fluent French, we had no understanding of what had gone wrong. Luckily, Charlotte at French Connections came to our rescue and got the whole thing sorted out and the power back on, but it made us realise that we would need ongoing help while we settle in."

Mark and Rachel have signed up to our new Personal Assistant service where for a small monthly fee they can contact us as many times as they like for help with all sorts of everyday issues.

"So far, they've helped us get a pet passport for our dog, set up a bank account with an English-speaking bank manager and found us an English-speaking doctor. This sort of service is invaluable because France isn't like the UK or US. You can't find everything on your phone because many artisans and businesses don't have a proper website. So it's great to have somebody to take care of those practicalities for you when you're starting out."

If you would like help with purchasing, transporting or registering a car in France, simply book a FREE 15-minute consultation with Richard by clicking on the button below. Or if you'd like to subscribe to our monthly Personal Assistant service or find out more about it, click here. The service costs just 89 euros per month for a single person or 121 euros per month for a family. This covers unlimited assistance with everyday issues ranging from finding a dentist or booking a hairdresser right through to advising on which lawnmower to buy. You can cancel the subscription at any time.

We'll leave the final word to Mark:

"While the decision to move to France was an easy one for us, the process was certainly not. The range of services offered by French Connections HCB has covered all our needs and more. What makes them stand out however is their authenticity and the personalised manner in which every team member has accompanied us along the way. I cannot recommend French Connections HCB enough. Our only regret is that we did not find them earlier!"