This week the British Pound faces a 50-year low and the Euro a 20-year low against the US Dollar. The Pound/Euro rate is also on its knees. Perhaps it's time to take a long hard look at why we remain so attached to our home currency even when we have made the move to France and the Euro.
Currency exchange is a game that's very hard to win. When you look at the Pound's performance over the past 22 years, for example, fluctuation has been extreme. It currently sits at 1.12 against the Euro, but a couple of months ago it was up at 1.18, close to 1.19. The 22-year mid-market rate is approximately 1.33 and the highest rate was 1.75 so we can see it has been a very rocky road.
Clients often ask me if it's worth investing in GBP while the value is down, but I believe that currency trading is notoriously unpredictable.
The bottom line is that if you're intending to stay in France, you really do have to think about the best place to keep your money – both your pension and money in the bank. This is particularly true if you are drawing down on pensions or investments for your retirement.
All state pensions in the UK or social security payments in the US are going to be in their base currency and there's nothing we can do to change this.  But some pensions and most investments are transferable, so if you are likely to be living in a Euro currency until the day you die, why would you choose to live with currency exchange risk? What is it that's compelling you to hold on to your old currency, when you shop and you spend in Euros every single day?

The only way to get rid of currency exchange risk is to be in the same currency as the place you live.
You could of course argue that currency can go either way, so sometimes you are better off and sometimes you are not. That's true, but we don't know where the Euro is going to be in 15-20 years' time and you are making life awkward for yourself by living with that uncertainty. There's a certain relief in getting rid of the unpredictable 'up and down' that you are constantly witnessing.
Some time ago, I met clients who had moved to France on a wing and a prayer, bought a cheap property, released some money out of the UK to find it and were managing comfortably on their pensions when the exchange rate was 1.5 – but were not managing at all when it dropped to 1.1, effectively a 30% income trim.
Even when your investments are doing really well, you are in a vulnerable position if you have to scrape off 30% because the exchange rate is going against you – especially if you are reliant on this income.
Doing nothing is potentially the worst thing you can do.
Understandably, a lot of pensioners say that they don't want to take a risk with their UK pension funds or US investments. But the reality, as we have seen above, is that you are already taking a risk if you've got it in GBP or USD – so why would you leave it there? The US Dollar is doing well now, but that could all change.
The situation becomes more manageable if you have access to both your original currency and the Euro. That means you can take Euros when the Euro is strong, and Pounds or Dollars when it's not. With dual currencies, you have the option of the best rate at any particular time but of course not everyone has enough money available to do this.
There are currency exchange companies that will do that kind of work for you. For example, if you have a state pension in the UK they will trade at what they believe are the best spots so you get a little bit extra. As things are, I would say that if the pound got anywhere near 1.2 or a little bit above, it would be pretty much time to consider transferring.
One of the advantages of transferring over time is that you are going to be there when the rate is at its highest and its lowest, so it averages out to mid-market. But when a client asks me whether they should move to Euros, my answer is always Yes, if you are going to stay in France. That's the only way to rid yourself of currency exchange risk. What the Pound or the Dollar and the Euro do after that is completely irrelevant to you. You can stop worrying about it because you have bitten the bullet and got yourself into the right currency. Now all you need to focus on is the investment side of it and enjoying life!
Some people have an emotional bond to their home currency. They feel the need to keep some 'just in case'. The real question is, in case of what? The answer may lie in how convinced you are of your move to France. Have you really given up your home country? If you continue to keep money there, perhaps there's a reason you are doing that?
One question I often ask my clients is: 'If one day you find yourself alone, would you stay here in France or would you go back to where you came from?'  The answer is rarely grey. More often it is 'I'll definitely stay' or 'I'll definitely go back'. Most people already know what they will do; they have already thought about it. Sometimes it's because it was either Mr or Mrs who had the dream of living to France and the other one tagged along for the ride but it wasn't their own dream. If they find themselves alone, it no longer makes sense. They may have sons and daughters and grandchildren back in the UK or the US. Why would they choose to live by themselves, perhaps in the middle of nowhere, far from family? Or perhaps staying in that French house would hold too many memories of their partner?
For those people, it makes sense to keep a foot in both financial camps. But anybody who replies that they would choose to stay in France if they found themselves alone should definitely be living and spending solely in Euros.
As a further consideration for GBP currency holders, it's worth noting that an ISA (or any UK tax efficient investment) is not tax efficient in France. It counts for nothing. However, the French have their own excellent tax-efficient solutions. You can keep your money in Euros and grow it free of tax. And if you haven't already moved to France, there's lots you can do before you arrive to maximise your tax efficiency.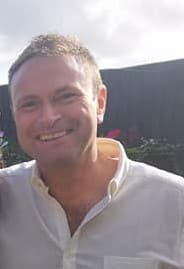 Simon is one of the few British financial advisors who are fully qualified in both France and the UK. If you would like to talk to him, you can book a free 15-minute consultation at a time to suit you by clicking here.