At French Connections HCB, we pride ourselves on teaming up with trusted partners like Burke Bros who are experts in moving belongings from the UK to Europe and beyond. We asked Charlotte from Burke Bros to share her top ten tips to help your move go smoothly….
Moving your household effects and belongings to start a new life in France will give you a lot to think about so it's important to be fully prepared.  After many decades of moving families to and from France, we've compiled a few hints and tips to help you feel more confident about tackling the move, pave the way for the best moving day and prevent any last minute problems.
1. Save the date:
Arrange this as early as possible and notify your removal company as far ahead as you possibly can. Avoid cancellations or postponements as much as you can add to the costs.  It's important to be aware that a move now takes longer due to custom formalities.  The need to deal with more documents and restrictions has increased transit times and the amount of paperwork that as a customer, a removal company will need you to complete, has also increased. Also bear in mind that bureaucracy in local French town halls can often cause delays.
2. Shared loads:
Not everyone will need the use of a full-sized furniture van, most removal companies should be able to offer prices for 'part loads'. This means that you can send a small consignment of belongings over to France which goes on a shared vehicle with other customers. The cost will then involve the space pre-booked in the van rather than having to pay for the cost of a sole-use vehicle.  Delivery dates will always need to be flexible with this arrangement as the removal van will have several deliveries to make.
3. Safe keeping:
It has always been challenging to synchronise the two legal systems when buying property in France and this has been made more difficult by Brexit. The majority of people moving to France will need to put their furniture into UK storage whilst waiting for a property purchase to be completed.   The effects cannot be taken into a French warehouse, unless the customer already owns a property there.
4. Food for thought:
Plan ahead and run down food stocks in the weeks/ days ahead of the move, else you'll find you'll be wasting quite a lot.  Do make sure that you defrost your freezer thoroughly before transit.  Some removal companies, like Burke Bros Moving Group, have partnerships with charities whereby customers can donate any remaining non-perishable food items to good causes.  Speak to your removal company to see if they run such schemes.
5. It'll be curtains:
Your mover will take down curtains/blinds by prior arrangement – but will not put them back up again or lay fitted carpets.  Check your quotation and/or service specification to ensure you are clear on this.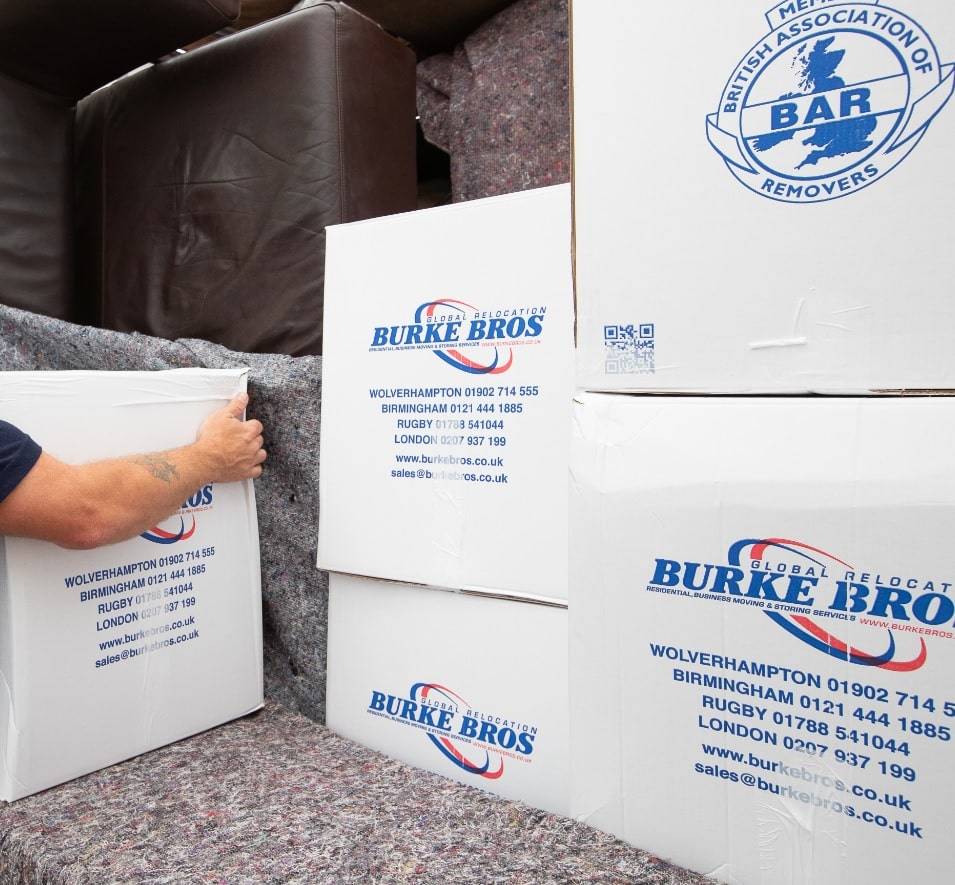 6. Boxing clever:
If you are packing yourself- start this early.  Don't be tempted to put it off.  It is also worth investing in the best packing materials.  You can often purchase British Association of Removers standard packing materials from your mover.  How much packing the mover does depends on your quotation and/or service specification. If you are paying for a total service, leave it to the professionals.

7. Special care:
If you have possessions which require special attention and are concerned about moving any items such as fine art or antiques, discuss them with your remover well in advance. They will advise you on how they will take care of these items and give you an idea of cost.
8. Prepare for the un-load:
As a guide, we advise that a moving van requires about 50 feet of parking space.  The closer the van can park to your property, the better for a more efficient and safe removal of possessions.  It's important to discuss with your chosen mover if the access to your property is difficult as sometimes this will require the removal company to use a smaller van to shuttle the goods to the property.  Speak to the remover about this early on. Equally, if there are small doorways or spiral staircases etc which could affect the removal crew's movement, you'll need to make the remover aware as they will need to factor this into their day.   
9. Key to the door:
  It is very common for the van to be at the house before the owner is there.  If it's possible, give a spare key to the remover as any waiting time will add to your costs.
10. Returning to the UK:
As a word of caution; if a customer's property in France has been only a holiday home, then VAT will be due on the value of goods they will be moving back to the UK. In certain circumstances this can be re-claimed at a later date from the HMRC.   For further information on the process of moving effects to France, Burke Bros Moving Group advisors are on hand to help on 01902 714555, via email at [email protected] or via this contact form.