This week, we're talking to our client Ian who has lived and worked in Abu Dhabi for the past 15 years but spends as much time as he can in France.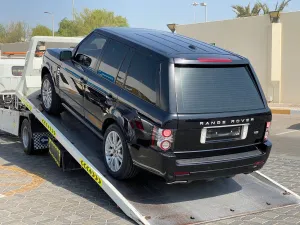 We first met Ian three years ago when he contacted us to talk about his car. It was a 2012 Range Rover, the last model, and Ian was undecided about its fate.

"For a while, I'd been considering whether it was worth exporting the car from Abu Dhabi where it was coming to the end of its life in an environment where temperatures regularly reach 45 – 50 degrees. Heat like that takes its toll on cars, so I was wondering whether it was worth running it into the ground or taking it to France where, being a left hand drive, it would make the transition much easier. "

As luck would have it, Ian spotted us online.

"I saw an ad for French Connections HCB on Facebook that was quite timely, so I got in touch and ended up having a long discussion with Richard, the founder of the company and a car buff himself, on the pros and cons. In Abu Dhabi, I had been offered about 6,000 euros for it when it was 8 years old, but Richard reckoned it was probably worth 30-35,000 euros in France. It was in mint condition – and still is. I took it to the Range Rover garage in Lincoln (UK) last year and they said they didn't think they had ever seen one in such a good condition." Ian laughs, "One advantage of Abu Dhabi is there's no rust on cars. Mine was dusty and the rubber had gone but overall the car was in great condition because there is hardly any rain in the UAE."

Based on Richard's advice, Ian decided it was worth exporting the Range Rover to France.

"Richard introduced me to his transport partners, Ship My Car, and they handled the export from the UAE to the UK, with Richard supporting in the background. Ship My Car were extremely efficient and things moved very quickly. The initial paperwork was done within a week of making the decision to go ahead. Then I had to go down to the traffic department in Abu Dhabi for the car to go through a test. I had to take the number plates off, go inside, hand them over, get an export certificate, then go back outside where a guy with a low loader was waiting for me and the Range Rover was loaded onto the back. Off it went to Dubai, where it sat for a few days. The guys from Ship My Car kept sending me pictures of my car in a crate. They were very good at keeping me informed. Once it was loaded onto the ship, the journey to the UK took pretty much 4 weeks. The good thing is you can track its progress, so I always knew where it was."

Ian explains why the car went first to the UK, rather than directly to France.

"I initially shipped the car to the UK because France taxes imported cars on emissions, but the UK taxes on value. Since my car was valued 6000 euros (GBP £5000), the tax on the import was only £1000, whereas in France it would probably have been 22,000 euros, of course, the car was still taxed when it made its journey to France because it was entering the EU, but only about 4,500 euros, so it was still far cheaper to bring it via the UK route."

When the Range Rover arrived in the UK, Ship My Car took care of everything.

Ian remembers, "It took a week or so for the car to clear customs, then Ship My Car did the MOT and all of the other stuff they needed to register it as UK car with UK plates. There was a slight delay because only the manufacturer certificate of conformity was acceptable."

The next stage of the journey was transporting the Range Rover to France. With Ian still in Abu Dhabi at that stage, Richard put him in touch with French Connections HCB's transport associates, Pop Valet. Ian remembers the date because it was imperative to have the car in France before the Brexit deadline of 31st December 2020.

"Pop Valet picked up the car in the UK on 23rd December, just one week before Brexit. The delay was due to that extra test which happened on the 17th. As soon as we got the results, the car left straight away, so it literally arrived in France just before the deadline! "

Ian recalls that there was only one hiccup in the entire process. "It was due to Brexit. The French would not accept the UK emissions certificate because it had to be in French and apostilled. The new Brexit rules meant that the car had to physically go up to Paris to the UTAC (l'Union Technique de l'Automobile, du Motocyle et du Cycle) which is the one place in France that does emissions testing. In the end, Richard's Dad, who is even more of a car enthusiast than his son, drove it up to Paris and got it tested. It was all fine, obviously, so he then drove it back down. Richard's team at French Connections HCB started the process of registration in France, organised the carte grise and also helped me to sort out the insurance through their associates, Fab French Insurance. "

Ian was very happy with the outcome. "I've now also moved my house insurance to Fab French, as well as insurance for a 2CV that Richard helped us to find and buy last summer. That's now registered, insured and sitting outside our house in France. We're in a little town in the Gironde, which is about one hour from Bordeaux and 45 minutes from Bergerac. We love it there, it's such a nice spot. We first visited in 2007 when we went to Rugby World Cup and just loved the area so we bought a house there in 2016. We're usually at home in France for 6-8 weeks in the summer, plus two or three other times during the year. When we're in Abu Dhabi, my parents and other friends share the house, so that's a good arrangement."

In fact, there is only one little cloud in an otherwise perfect sky.

Ian explains, "Our village has a 10th -11th century Abbaye, which means we're very restricted when it comes to building work. That's why we still don't have a garage! We initially wanted it in front of the house as a stand-alone, but we discovered it's impossible to get permission. We were advised by locals to just do it and ask for forgiveness later, but we weren't keen to take the risk. We eventually reached a compromise, thanks to the architect who works with Richard and the French Connections team. We plan to build a garage attached to the rear of the house. Our planning application has now escalated from the regional planning office up to Paris, mainly thanks to Richard getting somebody onto it. He's a terrier! He's spent most of his life in France so he knows how the system works …. "

We asked Ian to sum up his experience of working with French Connections HCB so far.

"My job in Abu Dhabi is to transition large Design & Build projects – mainly railways and metros – into operations. I do a lot of delivery work and therefore I appreciate people who can deliver when they say they are going to deliver. That's why I work with Richard. If he says he's going to do something, he does it. I don't need to chase him, I don't need to do anything, I just know he's going to get it done."

And when it comes to the partner companies Richard has introduced him to along the way, Ian is equally positive.

"Fundamentally, what you do in a job like mine is that you look for good suppliers. You are only going to work with suppliers who are not going to let you down. For me, that's why Richard has chosen to partner with Ship My Car, because he knows that they do what they say on the tin. They pick up cars, get them delivered, get them registered and hand them over. That's what they do and they do it well. It's the same with Richard and his team. "
At French Connections HCB, we help clients from all over the world relocate to France and that includes the transportation, delivery and registration of your car or motorcycle. If you would like to chat to us about your own situation, we invite you to book an initial 30 minute consultation here where you can ask questions and get expert advice. The consultation costs 90 euros but this amount is deducted from any service you book with us.

We look forward to talking to you.